Who??? MMEEEE??? Thank you, Thank you, Thank you and Thank you!!!! I'm VERY late in accepting these yet, on time with one acceptance.
I would first like to give a shout out to Tina over at Quench Your First. You are the absolute Best!!! I hate to say that she's not very objective though, because Tina is one of my closest and dearest friends. Check out her blog. She's really got GREAT ideas!!!!
Back in January, Sandy from Ms. Fiorini's Stadium awarded me with "The Versatile Blogger Award" Check out her blog and also her Teacher's Notebook Store that's filled with lots of goodies!
Sharing 7 things about myself
1. I have a SUPER family. My daughter is in college…YIKES! I have a son in Jr. High and one in Elementary School. They keep me pretty busy and the older 2 have given me MANY gray hairs! But….I wouldn't change a thing.
2. I love to sing although I'll be the first to admit I'm horrible at it. I can make a song up about almost anything and to any tune which I use to my advantage in class.
3. This year I am trying to be more organized.
4. I have self diagnosed ADHD. (Well, I use it as an excuse)
5. I'm still looking for that book or workshop that is titled, "Do this in exactly this order and your class will ALL be on/above grade level by the end of this year"
6. Teaching is my calling and I'm so blessed to have it as a career.
7. I HATE cooking & cleaning. My wonderful husband does most of the cooking around here.
Now the award goes to…………..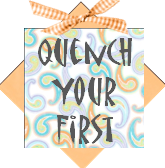 Love, Love, Love her!!!!
I have also been awarded the
by 3 fellow blogsters.
I want you to immediately click on these teaching blogs! They are so good that I will probably be---let's just call it what it is---stealing some of their great ideas!

Notes From Miss Dennis
and
Stapler's Strategies for Sizzling Second Graders!
(LOVE THE NAME!)
This award is given to blogs with 200 followers or fewer and is meant to give recognition and love to wonderful, upcoming blogs
like
Quench Your First
2nd Grade Bliss
Thinking Out Loud
I really appreciate all of this recognition!! Thank you!!!
Together for Our Kids,
Denise